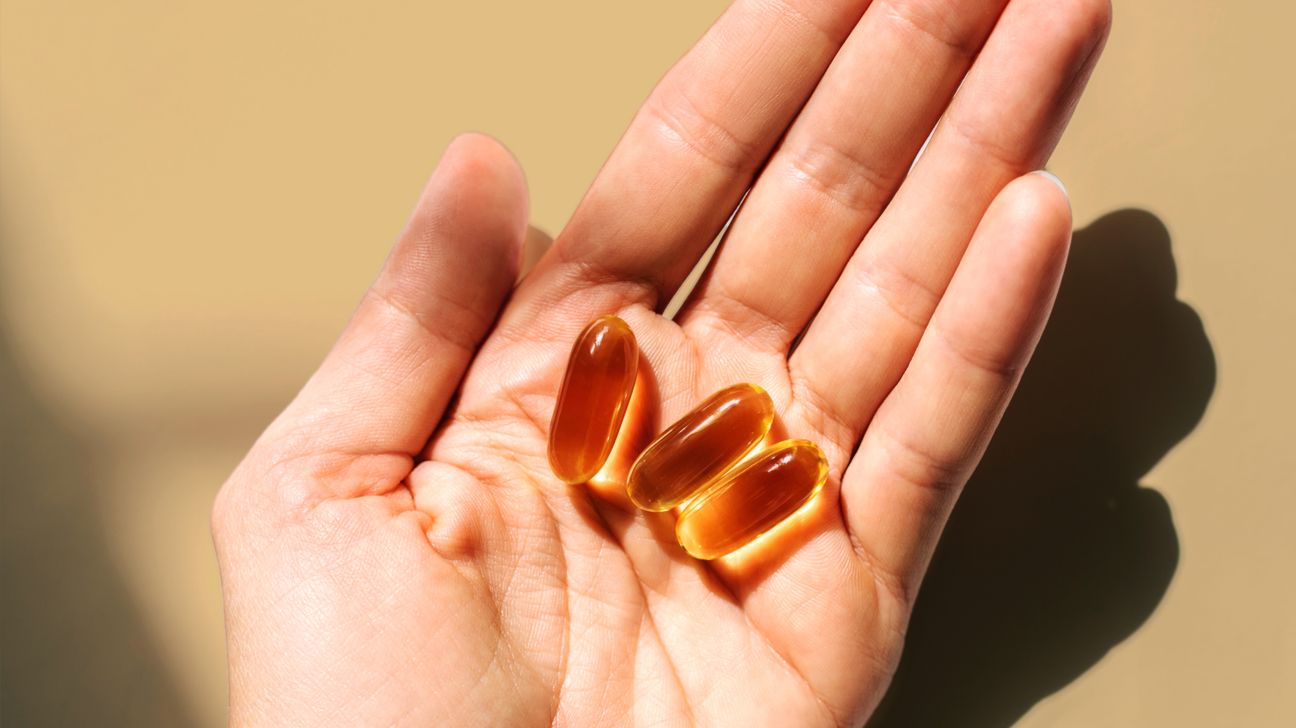 A new analysis has assessed the extent of heart health-related claims on fish oil supplements.
The researchers state that most products contain claims, but many lack supporting trial data.
While some studies have found fish oil supplements have no effect on cardiovascular health, others indicate supplementation is beneficial.
More research is required into the relationship between fish oil and heart health.
Dietary supplements are big business in the US, with the industry valued at over $50 million and around 60% of adults regularly taking a supplement to support their health and well-being.
A big component of the sector revolves around fish oil supplements — with many of these products possessing claims related to heart health benefits.
But are these claims backed by science? This is a question that scientists at the University of Texas Southwestern Medical Center explored in a new analysis report published August 23 on the JAMA Cardiology website.
Their findings stated that the majority of fish oil supplement labels comprise health claims relating to the heart (and other organs) — "despite a lack of trial data showing efficacy."
Furthermore, they revealed that levels of all-important eicosapentaenoic acid (EPA) and docosahexaenoic acid (DHA) can vary between products.
The researchers looked at data from on-market fish oil (and non-fish omega-3 fatty acid) supplement labels, taken from the National Institutes of Health Dietary Supplement Label Database.
They reviewed the prevalence of two types of claims concerning cardiovascular disease: qualified health claims and structure/function claims.
Qualified health claims (QHCs) are claims relating to a supplement's potential to aid in disease treatment or prevention and are made by the US Food and Drug Administration (FDA) following an evidence review.
The study revealed there are currently two cardiovascular-related qualified health claims for fish oil, one relating to coronary heart disease and the other to blood pressure. For instance, "Supportive but not conclusive research shows that consumptions of EPA and DHA omega-3 fatty acids may reduce the risk of coronary heart disease."
On the other hand, the FDA states that a structure/function claim "'describes the role of a nutrient or dietary ingredient intended to affect the structure or function in humans.'' These claims cannot declare that the supplement prevents, treats, or cures any illness or disease.
Some structure/function examples shared in the paper include "Promotes heart health," "Supports heart, mind, and mood," and "Omega-3 fatty acids are important for cardiovascular, immune, and nervous system health."
Out of 2,819 unique fish oil supplements assessed, 2,082 (73.9%) possessed at least one health claim — most of which were structure/function claims.
Only 399 supplements (19.2%) used a QHC: 394 relating to coronary heart disease, three for blood pressure, and two relating to both.
Of all health claims on fish oil supplements, a significant proportion (62%) related to heart health.
This is problematic, said the researchers, as "Multiple randomized clinical trials have shown no cardiovascular benefit to fish oil supplements."
Further, they added, the pervasiveness of structure/function claims could lead to misinformation among consumers.
The researchers recognized several limitations to the study:
Labels are voluntarily submitted to the National Institutes of Health Dietary Supplement Label Database, meaning it's likely there are fish oil supplements that weren't included
All supplement labels were weighed, despite differences in market share
Only health claims on product labels were assessed, not those in adverts or other promotional materials
Only supplements from the 16 largest potential brands were evaluated.
Experts unrelated to the study highlighted other potential drawbacks.
The Council for Responsible Nutrition, a trade group for dietary supplements, issued a statement criticizing the study.
"The report appears to ignore that [structure/function] claims and Qualified Health Claims (QHCs) serve different purposes – one to provide general non-disease specific health information to consumers, and the latter are permitted [by the FDA] to discuss the relationship between a nutrient and disease risk," said the Council for Responsible Nutrition (CRN) in a statement.
The CRN continued: "While [structure/function] claims may not have the same level of scientific substantiation as qualified health claims, they still require evidence to support their validity and provide consumers with valuable health information."
Furthermore, they added, "Existing labeling, as the authors point out, carry the appropriate legal disclaimers regarding the limitations of those claims."
Frustratingly, there's no definitive answer.
Why? The research evidence is somewhat mixed.
"Fish oil supplements have always been a little controversial, especially for their use in heart health," said Miranda Galati, MHSc, RD, dietitian and founder of Real Life Nutritionist.
In the new analysis, the researchers highlighted three different randomized trials, none of which found any cardiovascular benefits from taking fish oil supplements.
They did note that several other studies found higher doses of EPA and/or DHA (over 2 g per day) can lead to heart health benefits, including reduced cardiovascular events and lower triglycerides (blood fat) levels. However, higher doses in one study were linked to an increased risk of atrial fibrillation.
But there's also research to support the use of fish oil supplementation in reducing cardiovascular disease risk.
For instance, a meta-analysis of 13 trials revealed that supplementation of marine omega-3 "lowers risk for myocardial infarction [heart attack], [coronary heart disease] death, total [coronary heart disease,] [cardiovascular disease] death, and total [cardiovascular disease.]" Most trials reviewed involved a daily dose of around 850 mg.
Another meta-analysis found certain marine fatty acids aided in lowering heart rate, while a double-blind, randomized crossover study found fish oil supplements reduced triglyceride levels by around 14%.
Unfortunately, "Nutrition studies are notoriously difficult to conduct in the right way," said Megan Lyons, certified clinical nutritionist, board-certified holistic nutritionist, and founder of The Lyons' Share Wellness.
"Humans have so many variables at play: different health conditions, diverse dietary intake, varying movement patterns, and distinct sleep and stress patterns — all contributing to our overall health," she told Healthline.
Lyons explained that to isolate the very specific benefit or detriment of one nutrient or supplement, study participants would have to be rigorously restricted and controlled for years at a time — which is not possible.
"Therefore, many of these studies…often come down to what researchers are able to control and isolate," she added.
EPA and DHA are both omega-3 fatty acids. "The most significant difference is their chemical structure because they contain different amounts of carbon atoms and double bonds," said Allie Echeverria, a registered dietitian and founder of Eaton Broshar.
The research team found "substantial variability" in the amount of daily dose EPA, DHA, and combined EPA and DHA, across 255 different fish oil supplements from leading brands and manufacturers.
They stated that the "significant heterogeneity" in daily dose EPA and DHA can lead "to potential variability in safety and efficacy between supplements."
The median amount of EPA in the analyzed supplements was 340 mg/d, DHA was 270 mg/d, and EPA and DHA was 600 mg/d.
However, there's no official recommended daily amount for EPA or DHA, just as "There's no established upper limit for omega-3 fats," said Galati.
Typically, "You'll want to look for a 250 mg dose of combined EPA and DHA per day," Galati shared with Healthline. "Doses up to 1 g may be recommended for those with heart health concerns."
Going overboard "can cause gastrointestinal distress, such as gas, belching, and diarrhea," explained Echeverria. "Fish oil can [also] interact with blood pressure, anticoagulant, and contraceptive medications."
The amount of fish oil a person requires can vary according to factors such as dietary habits and underlying medical issues. If you're unsure, speak to a doctor or healthcare professional, such as a dietitian.
EPA and DHA are both believed to contribute to different aspects of health. "EPA is thought to help more with reducing inflammation and pain," she continued, while "DHA is known to support brain health."
Essentially, neither is "better" or more important. "Our bodies require a balance of both EPA and DHA," said Lyons. "Without [this], our body cannot function at its highest level."
In the U.S., dietary supplements are not regulated by the FDA in the same way drugs are — but this doesn't mean they aren't regulated at all.
The Dietary Supplement Health and Education Act of 1994 outlines various standards supplement manufacturers must meet regarding factors such as manufacturing processes, labeling, and ingredients.
If these are not adhered to, the FDA states it "has the authority to take action against any adulterated or misbranded dietary supplement product after it reaches the market."
Despite this, issues can still arise with supplements, said Lyons. For example, they might contain less of the active ingredient than promoted or "incorporate other additives, fillers, or harmful agents that may be binders, or similar substances not listed on the label."
Fortunately, consumers can take steps to help them stay safe when buying and consuming supplements.
"I always recommend looking for supplements that have been third-party tested," stated Galati. "This means a company has taken the extra step to have their formulas tested for accuracy and safety by an unbiased third party."
A product's label or website usually states if the supplement has been third-party tested.
You could also consider doing some of your own research, suggested Lyons — such as by "consulting a practitioner who can offer personalized guidance on suitable supplements."
A new analysis of fish oil supplements states that many on-label claims relating to heart health lack support from clinical trial data.
However, while the analysis highlighted studies finding no benefits to taking fish oil, other research indicates fish oil can aid in supporting various aspects of heart health. More investigations are required before firm conclusions can be drawn.
If you're considering taking fish oil supplements, Galati said it's vital to note they "aren't necessarily harmless for everyone — so always check with your doctor and pharmacist before adding it into your routine."